Harry Potter Meets Cook County
When school switched over to Distance Learning for our 2020/2021 school year, we here at Exploring the North Shore decided to have a little fun with our children's education. We found a Harry Potter-themed homeschool curriculum and went to work re-creating the enchanting world of Harry Potter right here in Cook County. Here is how Harry Potter Meets Cook County!
In The Beginning…
This whole adventure started out with a homeschool curriculum, a fair amount of creativity, and a whole lot of spare time.
When school turned into Distance Learning (DL) for my kids, I decided to play around with some homeschool curriculums. I had taken a leave of absence from work to stay home with the kids. DL for us was unlike DL in many other places. The kids only had one 30-minute meeting per day and a few short assignments that were easy enough to finish in under an hour. The rest was up to the parents to fill in with things like outdoor play, reading, etc. (heads up, my kids are still pretty young!). After much consideration, we decided to try a homeschool curriculum.
When a friend posted that she was also a Covid Homeschooler and posted a photo of her three kids in Harry Potter costumes, I became intrigued. She turned me onto her curriculum, Waldock Way's Wizards and Wands, and I knew I'd found our curriculum for the year!
With that, I started exploring ways to make the world of Harry Potter come to life for my kids. In doing so, I incorporated many of the places they regularly go to and see into this new, magical world.
Grand Marais Becomes Diagon Alley
Since we live in Grand Marais, it seemed natural to turn Grand Marais into Diagon Alley. And, as I turned to the Grand Marais community to help me with ideas for how I could transform the town, I realized that Grand Marais has a lot in common with Diagon Alley!
They both have a fabulous sweets shop. They both have a mysterious bank. They both have an old-timey-looking newspaper headquarters. At both, you can find an eclectic array of clothing, home decor, and art supplies. And so…
The Gunflint Tavern became the Leaky Cauldron.
The Gunflint Mercantile became the Sugar Plum's Sweet Shop.
Drury Lane transformed into Flourish & Blotts.
Joy & Company became Amanuensis Quills because of their wide selection of art supplies.
The Big Lake was turned into Madame Pimpernell's Beautifying Potions.
Holiday Gas Station, by request of the owner, became Wiseacres Wizarding Equipment.
Visit Cook County? Of course they became TerrorTours! (Don't worry, they aren't terrifying in real life!)
Every known shop in Diagon Alley was compiled and assigned a physical location in downtown Grand Marais. I then created a map and a guide as an early map-reading activity for the kids so they could visit the same shops in Diagon Alley that Harry visited. We turned Joyne's Ben Franklin into Eyelops Emporium and the Magical Menagerie because the kids went there to pick out their class pets (AKA stuffed animals).
You, too, can turn Grand Marais into your virtual Diagon Alley with just a bit of imagination and a little help from my handy map.
Note: I did have to make up one store in order for each downtown business to be represented on the map. A few were also left out as I struggled to make up more. But, most of Grand Marais is featured along with every known store in Diagon Alley.
You will notice that Olivander's Wand Shop is missing. This was not an accident. Because this map represents our personal adventure downtown, Olivander's was moved to our house since the kids chose their wands there, rather than somewhere downtown. Although Joy & Co would also make a nice Olivander's shop, should you choose to add that to your adventures.
Cramer Tunnel Becomes Platform 9 3/4
No Harry Potter adventure in Cook County would be complete without a spooky element and a trip to Hogwarts aboard the Hogwarts Express. Unfortunately, no train has passed through any part of Cook County in over a decade! But, because of that, we do have a fabulous abandoned railroad tunnel. That fit what we were going for just perfectly!
Cramer Tunnel is an 1,800 train tunnel that was once part of the LTV Steel railroad line that ran taconite pellets between Hoyt Lakes and Taconite Harbor. The 72-mile system was used regularly from the 1950s until the closure of the Taconite Harbor plant in the early-2000s. It was used sparingly over the years until the railroad was officially abandoned in 2008. In 2017, a section of the overpass that brought the tracks over Highway 61 was hit by a semi-truck and damaged. Quickly, that section was removed. I've been told that another section of track over in the Finland area was also damaged in recent years. Because of this, the Cramer Tunnel is truly abandoned. You won't risk a speeding train coming towards you as you explore today. Unless major repairs are made, no trains can travel along this track. With the Taconite Harbor plant mostly idled and running on a skeleton crew and expected to close permanently in 2022, I don't really see those repairs ever happening.
Since there was no train to take us to Hogwarts, we simple walked the distance from "Kings Cross Station" to "Hogwarts", which was pretty much just on the other side of the tunnel.
The Cramer Tunnel is a spooky tunnel. About a third of the way through it changes from a near, finished concrete tunnel to an unfinished tunnel. Jagged rocks suddenly appear like they are reaching out towards you. Even though the tunnel is straight, and you can always see both ends when within it, neither the entrance nor the exit ever seems to change in size. You may think you're halfway through when it turns out, you're barely a fourth of the way through. This can make for a great adventure, and one we recommend you not attempt alone! Also, bring a flashlight! It gets very dark towards the middle.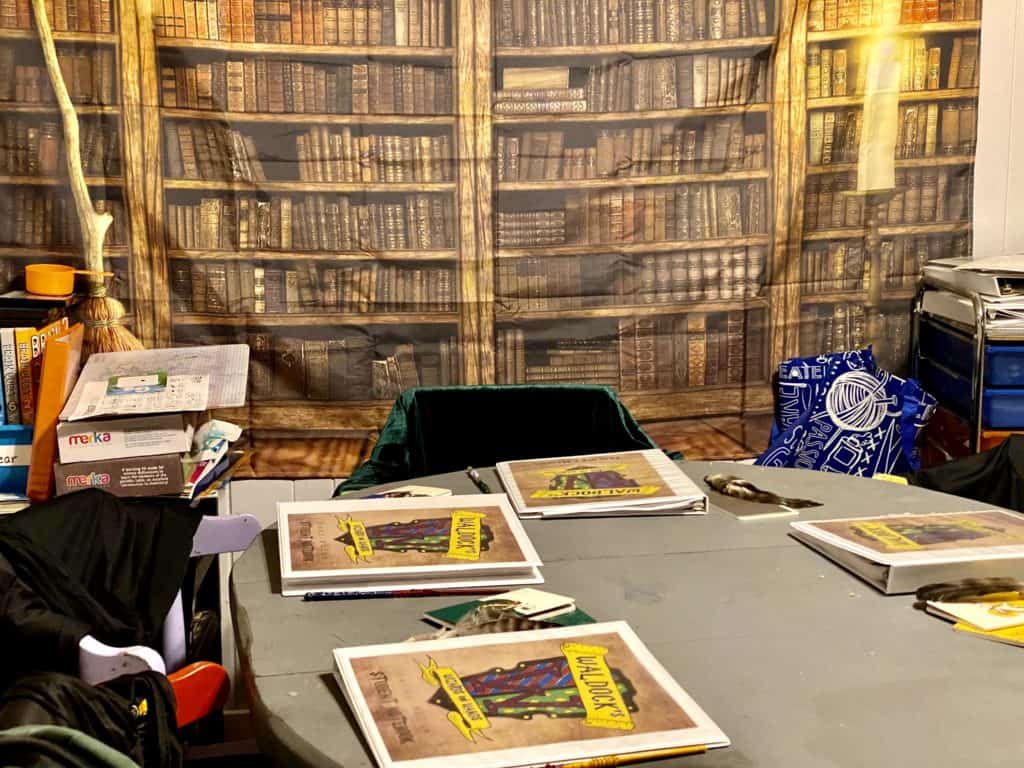 Experience it Yourself
There is no need to do a full homeschool curriculum in order to imagine Grand Marais as Diagon Alley. You just have to go there and use a little imagination! You can also just take a scroll through the Cramer Tunnel, no need for an elaborate reason to do so. Getting there is a bit tricky as it's well off the beaten track, but for those who desire to do so, finding it isn't too challenging!
From Lake County: Take Highway 61 north out of Silver Bay and turn left onto Highway 1. In the town of Finland turn right onto Highway 7/Cramer Road.  Take Cramer Road for about 13 miles until you pass under a tall railroad trestle bridge (pictured).
From Cook County: Take Highway 61 to the town of Schroeder. Turn onto Highway 1/Cramer Road (left if you are coming from the Taconite Harbor area and right if you are coming from the Lutsen/Tofte area).  Highway 1 will eventually turn into Highway 8.  Stay on this road for about 10 miles until it ends.  Turn Right onto Highway 7/Cramer Road.  Soon after turning, you will pass under a tall railroad trestle bridge (pictured).
After Passing Under the Trestle Bridge: About 0.1 mile after you pass under the bridge you will turn right into a gravel pit.  Keep to the left of the first fork, staying on the well-traveled road, then curve to the right at the second fork.  Park near the start of the hiking path leading up the hill.  See the map below for details.
The Harry Potter Podcast Episode
So, yes. I did that. I re-created Diagon Alley in downtown Grand Marais. Then, I led my whole family and some friends through the Cramer Tunnel. All in the name of creating a fun learning environment for my kids. To say I started going a little stir crazy staying home so much would be an understatement. Luckily, I had a beautiful backdrop to re-create a book series that had been a childhood favorite.
Listen along as Martha and I recount these adventures, plus a few others we had as a result of all of this, in our October 2020 podcast episode.
Harry Potter Meets Cook County Gallery